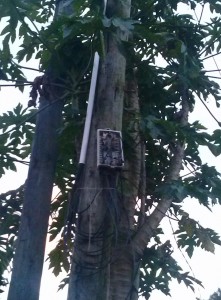 The connection box of Mauritius Telecom on the column doesn't has a cover. My Internet connection was very choppy. I registered a complaint on 3rd this month. After 2 days, i lose my phone dial tone completely. A technician came and diagnosed the column. They found the wires to be of very bad state. They said another team should come and replace the whole connection box. But the team never came. I kept calling the customer care and they said there was some underground fault which will take time to fix.
On the 17th, i called them as per my routine and they told me the complaint was marked as solved on 15th by Mauritius Telecom techinician themselves. They did NOT even contact me to confirm whether the problem was really solved :@
They put another complaint for me. Then another technician came, saw the lines were not placed correctly in the column. Fixed it.
Can't believe it took them so much time to fix this. And guess what? The box on the column stayed as it is. I don't think they will replace it soon.
Anyways, we're stuck with Orange for Internet. Emtel is not interested in targeting the mass. They are more interested in providing for corporate users. Meanwhile, Bharat Telecom proved to be liars with their Rs 280 for 10mbps promise. Mauritius Telecom is taking the maximum juice out of people as much as it can.
F*** YOU Orange/MT!!!
Now, i've yet to negociate how much they are going to compensate me for unavailability of this crappy service. :-/