All University of Mauritius students are given an email address like below.
yourname@umail.uom.ac.mu
You might think it's a crappy mail service by just looking at the very very ugly domain name. But it is powered by Google Apps with a huge storage capacity of 25 GB 🙂
To access the mail account, you will have go to either http://gmail.com/ or http://mail.umail.uom.ac.mu/ and enter your Username*1 and Password you were provided with. You will receive messages, lecture notes and circulars into it. Therefore, it is obligatory for any student to check this mail regularly.
The PITA can be much reduced if you already have a GMail account. You can forward the UoM mails to your regular GMail account and also send mails from your regular GMail from the UoM address.
Forwarding UoM Mails to your GMail:
1. Sign in into your UoM Mail account
2. Go to Mail settings >> Forwarding and POP/IMAP >> Add a forwarding address

3. Click Next button then press OK. Save all changes.
4. Log out then log in into your personal/regular GMail account and click on the link to confirm the forwarding request.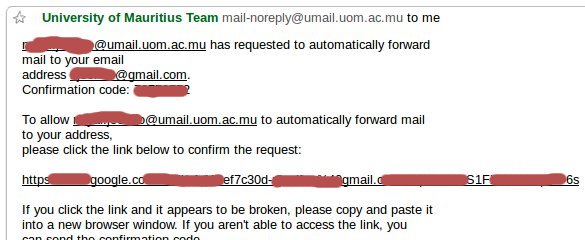 5. A confirmation screen shall appear

6. Log out and log into your UoM Mail account again
7. Go to mail settings >> Forwarding and POP/IMAP
8. Configure the settings so as the mail are forwarded to your personal/casual GMail account and the mails in the UoM account are not deleted

9. Save the changes.
10. Test if everything is working alright by sending few mails to your UoM address and see if you get them in your personal/casual GMail inbox.
11. Done! 🙂
In Part 2, i will show you how to send emails using your UoM address from your regular GMail account. Stay tuned!

Important Notes:
*1 If you are using http://gmail.com, you will have to enter your full email address as Username.
*2 I cannot be held responsible for anything if it goes wrong. I recommend you to occasionally check your UoM Mailbox in case something goes wrong.
*3 If you did everything correctly and still you are not getting the mails forwarded, check your Spam folder and whitelist the emails.