Wanna have our National Holidays and special days get shown in your KDE calendar?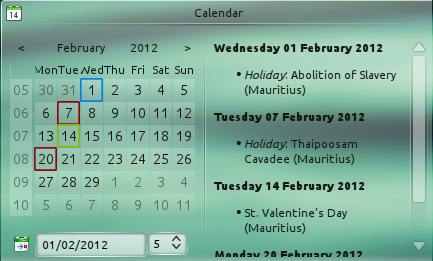 Here's the way to get it:
You can checkout from git here or download the files
here
(might not be up to date):
git clone https://github.com/Nayar/KDE-for-Mauritius.git
Copy the contents of "Holiday Files" to "
/usr/share/kde4/apps/libkholidays/plan2″. You will need administrative permission to do so. Open the destination location with this command (kubuntu). Then you will be able to paste the files
sudo dolphin /usr/share/kde4/apps/libkholidays/plan2
Right click on the time widget in the lower-right section of your screen and select "Digital Clock Settings"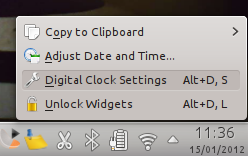 Now go to calendar, nect to Mauritius, select "Days Off"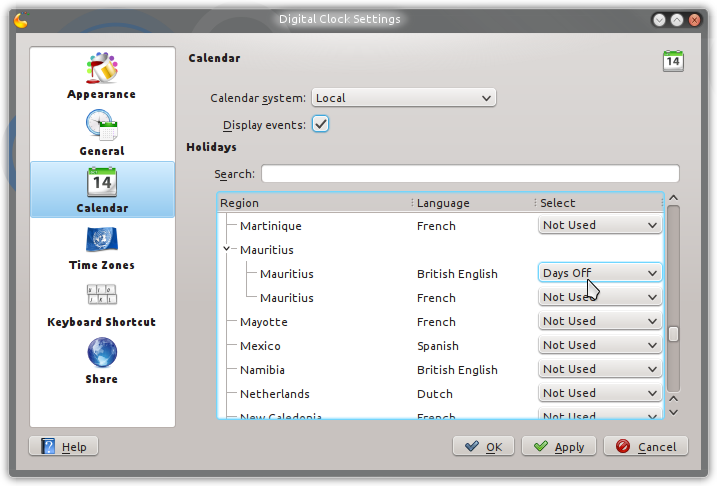 U'r Done!

1. This calendar is only valid for Year 2012 only. The following Holidays won't appear in the following years:
Spring Festival
Thaipoosam Cavadee
Maha Shivratee
Ougadi
Assumption // This holiday did not appear in year 2011. I did not put it reccuring for this reason cause i'm not sure when they decide to put it
Ganesh Chaturthi
Divali
If you know in advance when the above events will occur, please let me know. Events like Eid-Ul-Fitr and Eid-Ul-Adhia are approximated yearly like this:
"Eid-Ul-Fitr" weekend on hijri 1 shawwal // weekend makes it appear as a Day off
"Eid-Ul-Adhia" on hijri 10 thualhijjah // this will appear in green in the calendar as it is not a holiday
2. Send me a list of cultural days which mauritian celebrate such as St. Valentine's day, Father Laval day and birth of Sir Ramgoolam etc.
Next, i'll be doing a calendar for the Major activities organised by The University of Mauritius. Stay tuned to the SVN