Price
The game is actually priced at £15.99 but I actually paid £ 5.79 during a sale  on PlayStation Store. In Mauritius rupees, it would be around Rs 280 which is a good price.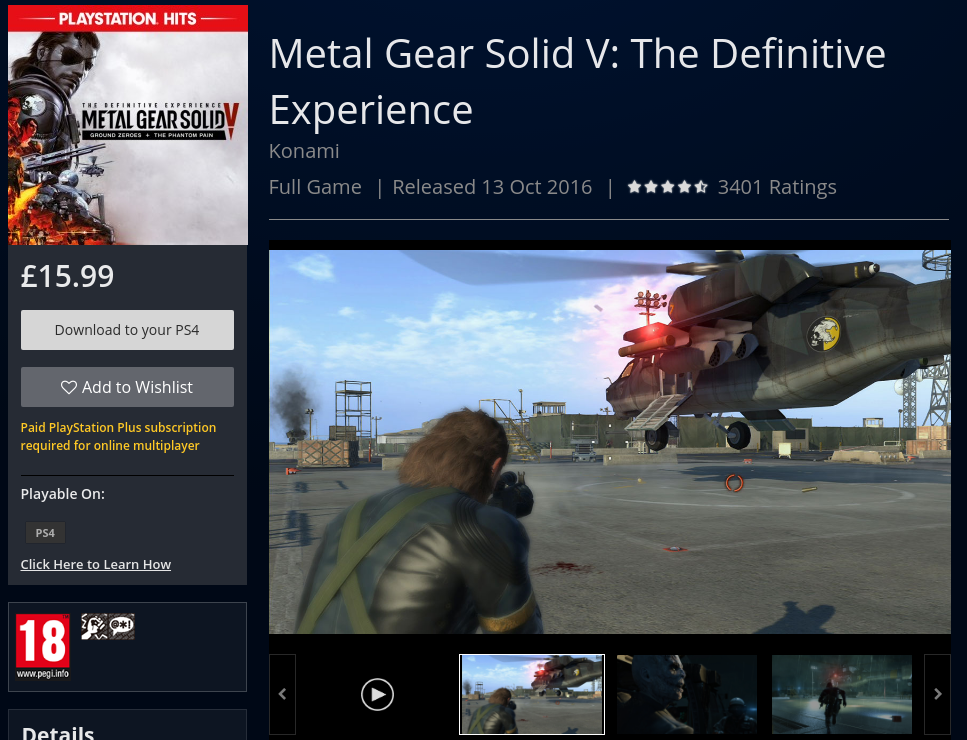 Graphics
The graphics are excellent on the PS4. A real treat to the eyes.
Gameplay
Excessive crouching
After playing Rise of the Tomb Raider, there was some things which annoyed me. e.g.
Snake, the protagonist, crouches too much even when there are no enemies around. Just walk near a wall or something and he just crouches so I have to press X to make him stand up again. Call it first world problems but I think Tomb Raider nailed the fight mode better.
No jump!
Like really. Snake cannot jump unless the terrain provides the option to. Sometimes a rock is really small and snake cannot climb it. You have to find a red carpet-like route in the mountains to climb higher.
Silencers are not permanent
In Tomb Raider games, bow and arrows are OP. Unfortunately there are no bow and arrows in MGS V. Only some guns come with silencers and the effect wears off. After shooting few people, your gun becomes loud again. Gotta calculate the risks before engaging enemies.
The AI!
At first, the enemies seemed really dumb. You could just run besides them and they won't notice. But later in the game, their vision sharpens as you create more havoc. They adapt to your play style.
Overall
Where this games shines is in the small details. Just google metal gear solid hidden tricks and so on. You'll be amazed by the amount of features present in the game. I used to play it as a shooter game and it worked fine. But after discovering the real stealth tactics, it got even more amazing. I'd totally recommend anyone to try the game.