Mauritius have been locked down due to Corona-virus since 3 days. What are Mauritians feeling? Following numerous posts on Facebook, Mauritians are blaming the Prime Minister for not-closing the Mauritian border early enough. We, the common people, will not know the rationale behind the Prime Minister's decision.
Other Mauritians are complaining about Mauritians not abiding by the lock-down rules: Photos at the supermarket show people queuing in close proximity to each other so as not to die from starvation. Can they be blamed for panic buying though?
Our ministers were boasting quite loudly that there were NO CASES of Covid-19 in Mauritius. I even believed them.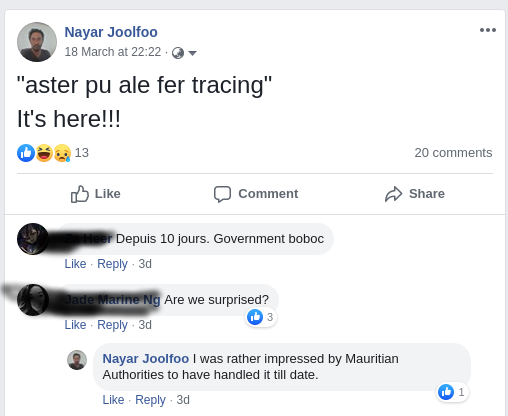 But there were! And the government even arrested the Administrator of a fake news Facebook page for spreading fake news. Who will arrest the Mauritian ministers for spreading fake news?
Fortunately, all the Internet Service providers have increased their data allowances so that Mauritians won't be too bored at home. Playing video games, watching TV shows are a very popular activity. Other's prefer reading books or trying new recipes. But the most popular activity seems to be forced house cleaning! How are you handling the situation?