In order to develop awesome product and services for my company LEFINTECH LTD, I need the best possible tools to do so. But the company  is a new startup in Mauritius, we have limited budget so we had to find best compromises in terms of features and price. The LG 29WL500 seems to be the perfect match for me.
Why did I choose ultra-wide instead of 2 monitors?
1. Small footprint on the desk
I live in a very small studio with no place to put a dedicated work desk, I needed something compact. A single 29 inch ultra wide display is perfect. It allows 2 applications to open side by side while still being usable. Website would not go into tablet mode as they do with 16:9 aspect ratios.
2. Price
I paid Rs 11,990 for the screen in shop at Fast Click Bagatelle. 2 x 24″ screens would have costed me around Rs 12,000 – Rs 16,000 (Rs 6000-8000 each). But since I get the benefits of 2 screens in 1 at the same price, it was obvious for me to go with it. But further I saw some discrepancies on Fast Click's website. At 1 place, it is listed as this: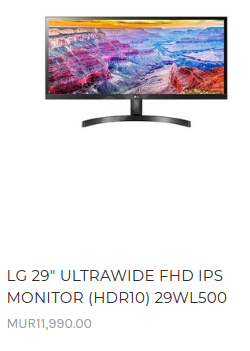 And in the price-list, we can see that it is Rs 11,590. Was the price increased at some point in time?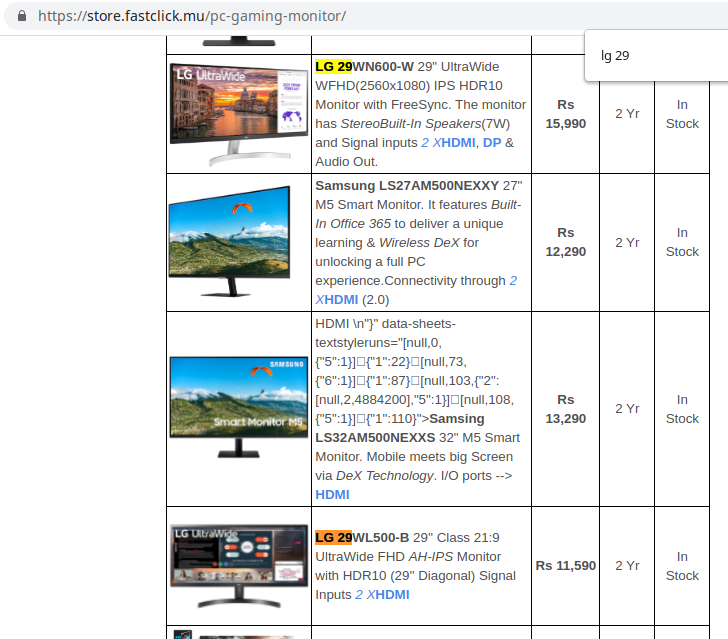 3. Spreadsheets are much more manageable.
Working in a startup doesn't limit your role to development. You have to do lots of things which are outside your comfort zone. Doing financial forecasts/analysis is one of the things i found myself doing very often.
The amount of columns you can display is greater. If you work a lot in Microsoft Excel, Google Sheets or Libre Office, I would strongly suggest to switch to an ultra wide.
Cons
Doesn't has USB-C connectivity so you cannot charge your laptop and send display signal with the same cable #richpeopleproblems
The screen is 6bit + FRC instead of a real 8bit or even 10bit. Linux doesn't support HDR or 10bit so not much an issue. Anyways for a work related environment, it really shouldn't matter
No height adjust: This is a big one. I had to put plywoods underneath the screen in order for it to reach the right height for me.
The resolution is only 1080p. Texts don't look that crisp. at 1440p, this screen would be perfect. But I think for the price, 1080p is still good.
Conclusion
If you're looking for a screen for work, just go ahead and buy this one. You will not regret it 😉