Price
Let's start with the price: it's a free-to-play PlayStation 4 game! Does it mean that the game is of bad quality? Far from it. And when people speak about free-to-play, the concept of pay-to-win (P2W) also usually comes up. I've only played PVE (Player vs Environment) so I can't really confirm that. The opinion on Reddit dating 3 years back suggest that it is not a P2W.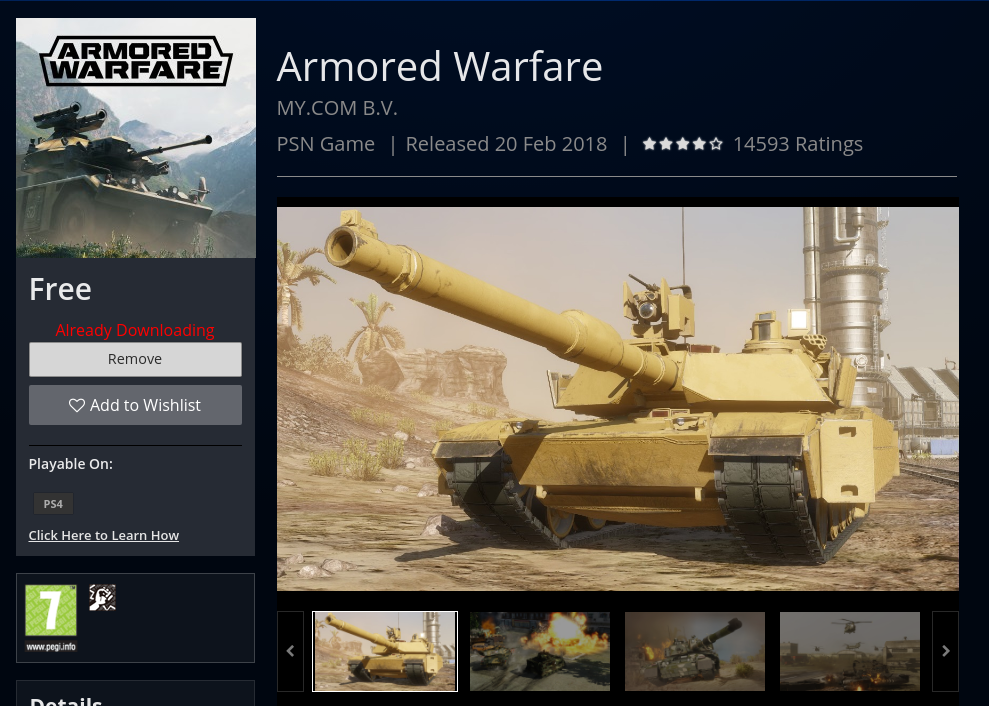 Graphics
The graphics are great: not mediocre nor as cinematic as Tomb Raider or Uncharted. The terrain is very well textured however the grass looks like really fake sometimes. The water quality is very average. The explosions look good too.

Couch Friendliness
First Person Shooter (FPS) and Third Person Shooter (TPS) games usually require lots of concentration from the player giving more stress to the later. Armoured Warfare is not so demanding – at least in the PVE missions. You can very well play this game after a tiresome day at work and relax while destroying tanks on your couch. All you have to do is to spot a tank, zoom on it (L2), lock the targer (L1) and fire (R2)! Voila the tank is destroyed not matter how fast it's moving.
Player vs Player (PVP)
I haven't been able to play a PVP match yet because you need a minimum of tier 5 tank to be able to join. It took me quite some time before being able to get my first tier 4 tank (2 weeks, 1 hour per day). I guess it's done on purpose so that the PVP matches contain experienced people only so that no one feels Over-Powered (OP) or Under-Powered (n00b)
Waiting Time
I'll find a game within 1 or 2 minutes after joining the queue. The maximum I had wait was like 7 minutes on a particular day.
Mini-comparison: Armoured Warfare vs War Thunder
Gore
In War Thunder, it actually displays the actual fake humans in the tank which we have to kill in order to immobilize a tank. Armoured Warfare on the other hand is more like a Machine-to-Machine match which doesn't shock sensible souls like me. LOL xD
Airforce and Navy
Armoured Warfare is focused on Tanks only whereas War Thunder has missions including Airplanes and Warships. I found myself enjoying Tank matches in Armoured Warfare more since it has a target locking mechanism which makes it much easier to strike. Less stress and more gratification for me. I haven't played the airplanes much.
Conclusion
War Thunder is a very good free PlayStation game which which can keep you entertained for hours without any stress. Go ahead and download it.